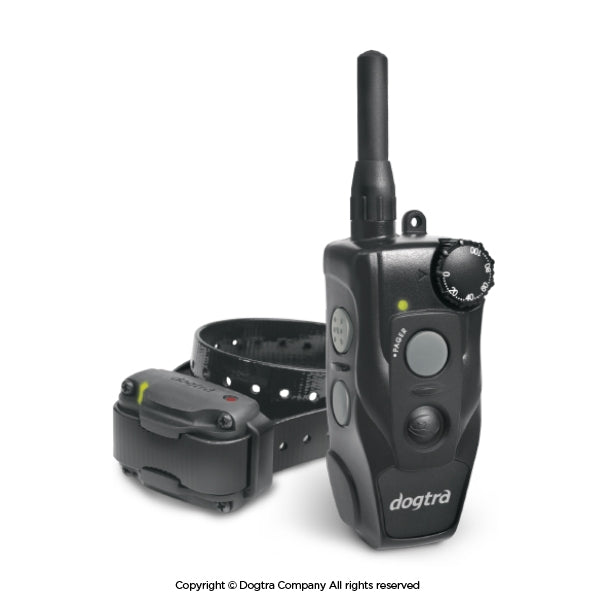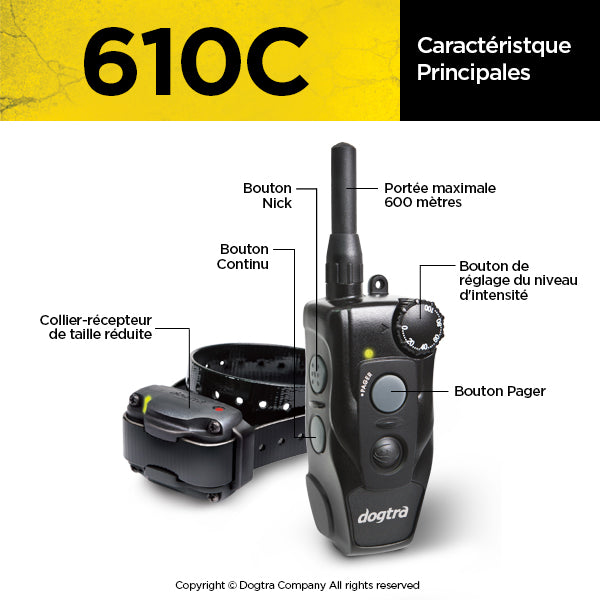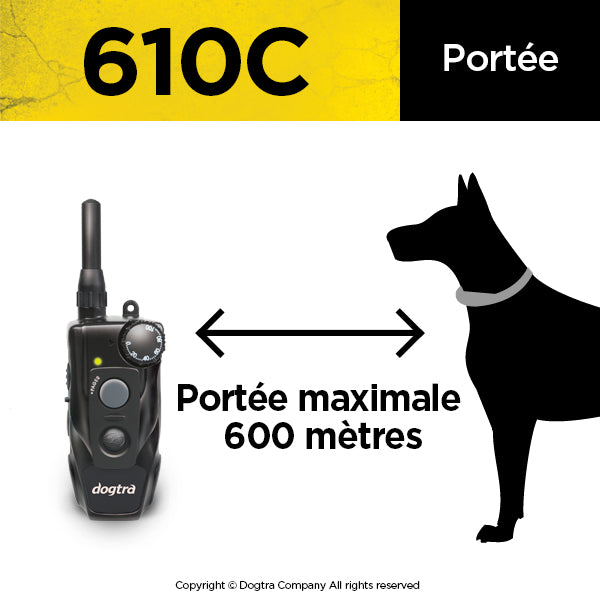 610C
Built with enhanced precision and ergonomics, the Dogtra 610C e-collar is a compact intuitive remote training tool for even the mildest mannered dogs of 5 kg and up. The 610C offers many of the same features found in a full sized professional e-collar remote trainers and it is a great choice for basic obedience training and entry level field work.

The new ergo dynamic 610C handheld transmitter is designed with the user in mind by optimally placing buttons for one-handed operation. The patented front facing Rheostat Dial with 0-100 stimulation levels is conveniently located near your thumb for gradual and precise control. Stimulation and non-stimulation buttons are intuitively placed by your fingers, allowing you the "no-look" control to focus on dogs in action.

IPX9K WATERPROOF RATING:

This unit has been tested and has received a waterproof rating of IPX9K. The Ingress Protection (IP) rating classifies the level of protection provided by the exterior casing and electrical enclosures against a variety of elements. Dogtra's IPX9K rating has been specifically tested for waterproof protection. This unit was tested at close range using powerful water jets with high pressure and high temperature over various points.
Li-Po Batteries (2-3Hour Rapid Charge)
For dogs as small as 5 kg
IPX9K Fully waterproof Receiver
IPX9K Fully waterproof Transmitter
Non-Stimulating High Performance Pager
Up to 600 meters
Rheostat/Volume Dial with Stimulation Levels 0-100
Low to Medium Power Stimulation
Nick and Constant stimulation
Émetteur
Récepteur / Collier
Chargeur de batterie avec câble double prise
Lampe test
Notice d'utilisation
Électrodes plastiques non conductibles